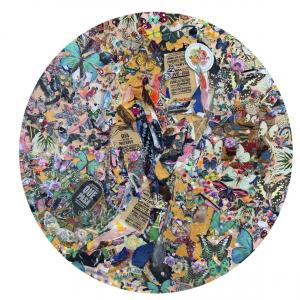 Parveen Dhatt
Artist member since 2019
Brampton, Ontario
I used to be embarrassed going out with my dad as a child to rummage through other people's trash, further exacerbated by the turban my dad wore and the only brown family on our street. We stuck out like a yellow umbrella on a grey rainy day. The seventies and eighties were the pre-consumer and pre-earth freindly eras, those rifling through bins were an anamoly, or a recent immigrant.
Fast forward to the present, every alternating Wednesday is my favourite day of the week, it's recycle day, when I can look for treasures casually thrown out by neighbours into the blue bins. Over the years, I have allowed my ego to humble and contain itself as I carry these items back to the garage. Each item has an energy, whether it's conveyed by the texture or colour and possibly had an interesting story to tell as well.
My mixed media collages are created from post consumer 'waste', remnants of everyday life; newspapers, food packaging, fast food wrappings, dried shrimp shells, denim, utility bill envelopes, flyers, Amazon boxes, beads, duct tape from older work and discarded fabric. These humble materials are rescued from an inevitable life decaying in landfills. They are partially stripped of their identity and along with detritus collected from the studio floor are layered and glued onto panel and together they construct a unique narrative and become objects of aesthetic value. This work illustrates the material possibilities of what most would consider trash while also maximizing the aesthetic potential of what would otherwise be considered waste objects.
These collages also serve to document, upon completion they become fossils that mine pop culture and act as irreverent critiques of mass consumption. The purpose is contradictory and a paradox, to evoke an emotional response from the viewer, while critiquing fast fashion. My purpose is for people to make empowering connections with the work when they recognize objects of daily use reflected back to them.
As a multi disciplinary and self taught artist, my practice also includes large abstract encaustic paintings and photography. The most important themes conveyed through these mediums are of time, history, culture, identity, hybridity, race, migration and dislocation. There is a clear attempt to remap our understanding of east/west throughout all of my work.
I hope you enjoy my gallery as much as I have loved creating these works! They really have to be seen in person to appreciate the texture and brilliant colours. Safe and socially distanced studio visits are welcome and alternatively artwork can be viewed through Zoom.
It's worth the drive to Brampton!
---
Best season of the year in Toronto
Spring, when everything comes alive, back to life.
Describe your home in 3 words
Very bohemian chic
Beverage of choice
coca cola, tons of it... it has to be cold and well carbonated...I am a coke connisseur!
In a previous life I was (a) ...
Monkey, I love trees and climbing them. Or maybe I was a tree and loved having monkeys jumping from branch to branch.
During my breaks, I tend to ...
nap, meditate, garden, decorate and move furniture around in my house...read
What do you listen to when you work?
I have a very eclectic collection, Qi rattan, Snatam Kaur, Taren Kaur, 80's music, rock, pop, and old Bollywood
What do you mean, "try"?
Try-before-you-buy with a 3 month rental. 100% of your rental payments go towards the purchase (interest free). Message the artist directly, and start the conversation.
---
Art made (truly) affordable
We make it easy for you to try art with smart payment plans and try-before-you-buy models.
See How It Works
---
You're covered.
Artwork protection is included on all art rentals up to $5K. Our Customer Care team is always here to help.
Contact Us
---
Unlock Trade Access
For industries including interior design, film/TV production, & real estate staging: rent original pieces that fit with your project vision, budget and timeline.
Apply for Trade Access
---
1% from every transaction goes towards a Canadian arts nonprofit.